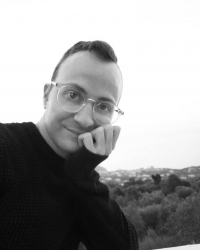 When I was a young boy, my favorite activity was to curl up in a cozy spot and explore the beautiful worlds I found waiting for me in books.
As an adult, my love for reading hasn't changed, and it put me on the path of writing. Now, I'm able to create stories of my own.
Here's 5 reasons why you should consider me as your next writer.
1) I CAN HELP YOU SELL WITH THE POWER OF MY PEN (OR LAPTOP).
• Over 4 years professional experience working as a marketing copywriter.
2) INTERNATIONAL FLAIR
• Spent 3 months gallivanting across Europe and northern Africa while writing my first novel. (Nothing quite like traveling to inspire fresh ideas!)
• Worked down under in Sydney, Australia for 6 months, where I was a social media contributor for a travel-abroad company called Alliance Abroad.
3) I HAVE THE DEGREE
• Hold a bachelor's degree from the University of Utah in communications/journalism, with a minor in creative writing.
• News-reporting internship with ABC4 Utah News.
4) MY LOVE FOR WRITING
• A small notebook is always in my possession and I love to write a little bit of everything: fiction, magazine articles, newsletters, blog posts, social media posts—you name it!
5) I LOVE THE OXFORD COMMA. ENOUGH SAID.
Check out some of my best writing by clicking on the tab above. Contact me to book your next project.
Expertise Magazine/catalog articles, website content, newsletters, blogs, and emails. Similar significant background in writing social shareables, infographics, sales aids, and more. I also love writing creative fiction and editing written pieces.
Skills Strong experience creating content for print, publication, and digital assets. I enjoy social media platforms and am comfortable navigating my way around Instagram, Facebook, YouTube, Blogspot/Wordpress, etc. Efficient in Microsoft Word and Outlook.
Location Salt Lake City/My suitcase/Wherever the next big writing adventure is!